The Cat in the Hat Piacitelli, Vittoria
Jojo/boy McEntire, David
Horton Kartchner, Logan
Gertrude Hummel, Elizabeth
Mayzie Kerksiek, Clara
Mr. Mayor Colvin, Charlie
Mrs. Mayor Sadowski, Grace
General Schmitz Kartchner, Miles
Grinch Turner, Truman
Sour Kangaroo Thomas, Nori
Young Kangaroo Rogers, Samantha
Bird Girls Perry, Samara
Hardy, Amelia
Harper, London
Butterfield, Ellery
Hansen, Hannah
Bowen, Holly
Bird Boy Smith, Beckett
Wickersham 1 Thurman, Jordan
Wickersham 2 Banks, Parley
Wickersham 3 Smith, Beckett
Wickersham Brothers
Bate, Krew
Larson, Liam
Applegate, Joseph
Vlad Vladikoff Burnham, Quinn
Yertle the Turtle Mann, Carter
Thing 1 Lambert, Hannah
Thing 2 Harwood, Johnathan
Aerialist/Flyers Moore, Caroline
Snedaker, Kambri
Green, Lyla
Hodges, Jane
Beckstrom, Anna
Ensamble
Adams, Caroline
Allred, Brynlee
Ashby, Briley
Ashby, Hunter
Bartlome, Chase
Behunin, Payton
Bellenger, Elias
Browning, Ally
Butterfield, Alexis
Clark, Emily
Clyde, Violet
Crouch, Emily
Emerson, Leah
Evans, Jessie
Feldman, Megan
Finlinson, Olivia
Franson, Keira
Gaeta, Alexa
Gardner, Mia
Greene, Sophie
Griffith, Lucy
Hales, Ivy
Hall, Courtney
Hansen, Hailey
Hansen, Marie
Hawkins, Lauren
Howard, Halle
Hummel, Isaac
Krommenhoek, Jade
Larson, Eden
Lee, Andrew
Loza, Aryana
Lund, Weston
Madsen, Elaine
McBride, Chayla
McCarty, Alaina
Mandado, Rhiannon
Morton, Hailee
Mott, Isaac
Mumararungu, Alice
Murry, Jensen
Neeley, Luke
Ogden, Bria
Ormond, Lily
Osborne, KayCee
Pace, Alexa
Paz, Nancybel
Pessetto, Lilly
Prince, Gabriella
Riddle, Hilary
Robertson, Jonathan
Rodriguez, Cadence
Rollins, Amelia
Sheppard, Gavin
Snow, Jackson
Taiba, Florencia
Walden, Makayla
Whitmer, Katie
Williams, Jacob
Williams, Joseph
Zoo Keepers
Bell, Azilee
Ferrer, Elias
Good, Whitney
Hedin, Carson
Hedin, Colby
Moysh, Korbin
Porter, Nash
Smith, Sarah
Talbot, Katie
Tippets, Sophia
Whitmer, Emma
Wilkey, Addy
TECH CREW
STAGE CREW
Management
Colton Johnson Stage Manager
Bridget Good Assistant Stage Manager
Brayden Hansen Assistant Stage Manager
Lights
Levi Bergman Lighting Designer/ Board
Olivia Hancock
Kelly Gonzalez
Olivia Condie
Sound
Ethan Peters Sound Designer/Board
Jackson Murdock
Brock Guevara
Jack Hales
Benson Simkins
Isaac Trimble
Props
Bodey Meadows Prop Master/ Crew chief
Courtney Cook
Logan Carney
Set
Seth Anserson Set Designer/ Run Chief
Hayden Orgil
Asher Morrow
Adriana Villarroel
Costumes
Becca Coates Costumes/Crew chief
Lily Collett
Maren Christiansen Assistant Crew Chief
Mya Foster
Billie Earl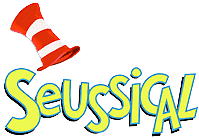 The Musical for the 2022-2023 year is :
Seussical is a musical comedy by Lynn Ahrens and Stephen Flaherty, based on the many children's stories of Dr. Seuss, with most of its plot being based on Horton Hears a Who!, Gertrude McFuzz, and Horton Hatches the Egg while incorporating many other stories. With memorable music, clever banter, and a lot of heart, Seussical is a perfect fit for Elk Ridge.
Next Years Musical will include super fun costumes that will give a nod to the animal but represent the personality and a time period. It will include lots of singing and dancing. Plus, it will include Aerial arts!
PREP FOR MUSICAL
There is a camp being offered this summer and being taught by Mr. Goodrich at Aerobatics. These camps are a fun and easy way to gain experience flying. Participating in the camp DOES NOT guarantee you will fly in the musical. It is also NOT expected that students take the summer camps as a prerequisite to the musical. It does give you an opportunity to gain strength and flexibility and learn a new skill or two. If you are interested please sign up for a camp at aerobaticscircuscenter.com you can also pick up a flyer about the camp from Ms. Vuki. Mrs. Giove or Mr. Goodrich.
Musical Performances
TBA