Welcome to the home of all things theatre at Elk Ridge. Below, you will find information about auditions, shows and more.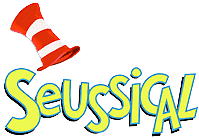 The Musical for the 2022-2023 year is :
Seussical is a musical comedy by Lynn Ahrens and Stephen Flaherty, based on the many children's stories of Dr. Seuss, with most of its plot being based on Horton Hears a Who!, Gertrude McFuzz, and Horton Hatches the Egg while incorporating many other stories. With memorable music, clever banter, and a lot of heart, Seussical is a perfect fit for Elk Ridge.
Next Years Musical will include super fun costumes that will give a nod to the animal but represent the personality and a time period. It will include lots of singing and dancing. Plus, it will include Aerial arts!
PREP FOR MUSICAL
There is a camp being offered this summer and being taught by Mr. Goodrich at Aerobatics. These camps are a fun and easy way to gain experience flying. Participating in the camp DOES NOT guarantee you will fly in the musical. It is also NOT expected that students take the summer camps as a prerequisite to the musical. It does give you an opportunity to gain strength and flexibility and learn a new skill or two. If you are interested please sign up for a camp at aerobaticscircuscenter.com you can also pick up a flyer about the camp from Ms. Vuki. Mrs. Giove or Mr. Goodrich.
Musical Performances
TBA
Auditions
Auditions for Seussical are here- A musical perfect for the whole family, Seussical takes us into the world of Dr. Seuss, where we revisit beloved characters including The Cat in the Hat, Horton the Elephant, Gertrude McFuzz, Lazy Mayzie, and JoJo. Come be a part of this fun, upbeat and crazy Musical.
Auditions will be held on October 11th and 12th. They will start at 3:15pm and have slots available until 6pm. You will need to sign up for a time slot using the following link. Make sure that you fill out the application. Any student in a time slot without an audition form filled out will not be able to audition. Sign Ups will be available starting 9/ 23 and will close on 10/7
Here are some of our Characters:
Horton the Elephant
JoJo
The Cat in the Hat
Gertrude McFuzz
Mrs. Mayor
Mr. Mayor
Mayzie LaBird
The Sour Kangaroo
General Genghis Kahn Schmitz
Bird Girls
Wickersham Brothers
Vlad Vladikoff
Judge Yertle the Turtle
Grinch
Nool Ensemble
Who Ensemble
Thinks Ensemble
Aerialists and Circus performers
Aerialists and Circus performers
Elk Ridge Middle School is pleased to partner with Aerobatics Performing arts and Circus Center to sponsor a small number of students to perform as aerialists in ERMS's production of Seussical. These aerial performers will learn routines on the aerial hoop and silks. There will be a special audition held on SATURDAY OCTOBER 15th at Aerobatics Gym at 763 W. Honda Park Drive Bluffdale UT. Parents need to attend these auditions. These students will register with aerobatics and will work with Mr. Goodrich and Samantha Nielson (owner) to create some awesome aerial numbers for Alone in the Universe, Circus McGurkus, It's Possible.
Ensemble Rehearsals
Please See Canvas Class for all information about Rehearsal times
THANKS TO ALL WHO PARTICIPATED THIS YEAR- IT WAS WONDERFUL